Jewellery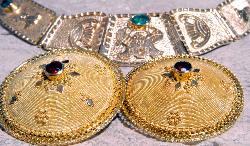 Sardinia can boast a long artisan tradition in jewel manufacturing, also thanks to its mineral wealth, namely silver, widely used in the creation of ornaments.
Filigree stands as a widespread technique, imported from the East and used ever since the Punic age. Most famous jewels are characterized by this technique, such as the 'Sardinian wedding ring'; also, 'su lasu', a butterfly-shaped pendent, to be suspended by a velvet ribbon around the neck, and the Sardinian button, with a mammillary shape, once representing a precious ornament of the traditional woman's costume.
Embossing, fretwork, 'granulation', 'fusion', 'welding' and 'interlocking' are the names of other ancient techniques.
A few traditional jewels are associated to the religious field, while other ones can be considered as simple ornaments. The most representative category is that of amulets and charms, handed down in generations and covering a great importance in the daily life of the population, as they were also believed to bear a symbolic meaning and the power to keep misfortune away.
Decorating patterns are often linked to superstitions about bad luck, wedding and birth, fundamental steps in the life cycle. The same motifs, revisited and stylized, are now reproposed by artisan jewelleries by the creation of objects showing the finest workmanship.