Wood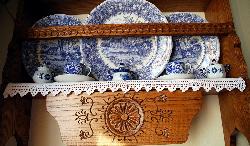 Wood working is widespread in the whole island, related to both manufacturing and carving of traditional furniture - either simple fittings for daily purposes and finely, richly decorated fixtures.
The most commonly employed wood includes chestnut, poplar, cherry, walnut or juniper, left in their natural shades or adorned with decorations in colours obtained from vegetal dyes.
Traditional furnishings of daily use are chests, smaller cases and compartments, boxes, chairs, tables, beds, cupboards, an assortment of kitchen tools such as cutting boards (is talleris), ladles, carving forks and various bowls.
Also called 'wedding ark', the chest is an instance of the ancient, sumptuous travel trunks once brought by the brides as a marriage settlement to keep their dowry.
Decorations are inspired to naturalistic, floral and faunal patterns, usually presenting a central figure and a series of motifs covering the whole surface of a piece of furniture.
In addition to household furniture manufacturing, woodworking also used to produce decoration items and handicrafts, embellished by the inlay technique, and fancy ornaments. Such production still continues in line with the traditional techniques.