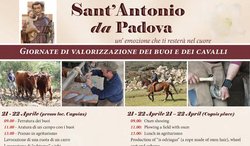 Comune: Arbus -
Data inizio: Saturday, April 21, 2012
Data fine: Sunday, July 1, 2012

The tradition of oxcart, deeply rooted in Arbus, dates back to thousands of years ago. In Arbus there are still 17 couples of oxen
that are used to plow fields and vineyards or to move firewood.
Each couple of oxen is called with funny sentences dealing with Sardinian sayings, for instance "If you try it you'll like it", "Don't go away from love", "Think you are a Sir", "Take care and it'll be better for you".
In Arbus these royal animals are symbol of Saint Anthony Festival (Sant'Antonio da Padova di Arbus). We offer you the possibility of having a nice weekend in Arbus territory in order to take part in the thousand-year tradition of horses and oxcarts and to attend
the horseshoeing, Sardinian riding techniques and horse training.
It will be possible to participate to the production of "is odriagus"(a rope made of oxen hair), wheel cart and oxbows. Also the process of cheese making is an important pillar of Arbus economy. All of this is in an exclusive setting, surrounded by a wild nature, a
breath-taking view, white rocks and centuries-old oaks.
21 – 22 April (Cogois place)
09.00: Oxen shoeing
11.00: Plowing a field with oxen
13.00: Lunch in agriturismo
Production of "is odriagus" (a rope made of oxen hair), wheel cart and oxbows
Techniques of tanning skins of animals to produce leather
21-22 April (Dessì Farm)
15.00: Horseshoeing
16.00 – 17.00: Sardinian riding techniques
17.30 – Cheese making
18.00 – Horse training
Exposure of horses tools
Horse riding

Festival Program
21-22 April: Horses and Oxen Day
5 - 6 May: Natural ornaments Day
19-20 May: 1st Saint Anthony Run
2-3 June: Traditional bread Day
13 June: Saint Anthony Day
June: Welcome to Arbus
15 June: Flowers Day and decoration of the Saint Chariot
16, 17, 18, 19 June: Four Days Festival
1 July: Last Day of celebration
WHAT TO SEE
Knife Museum
Artistic Pottery Workshop "Cotti
d'Arbus"
Knife Workshop "Boiccu"
Pozzo Gal (Mining area and
Museum in Ingurtosu)

WHAT TO DO
Horse riding
Off-roading
Walk with oxcart
Visit to the Parich Church of San
Sebastiano, where sits the statue of
Saint Anthony