Skip navigation bar and go to contents
Torre dei Corsari, Pistis, Poet's House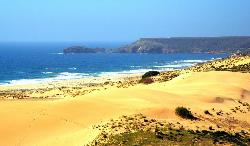 Torre dei Corsari is one of the most evocative localities of Arbus resort. Dominated by a tourist village, a huge beach of golden sands (named 'Sabbie d'Oro') are backed by great dunes reaching the sea in a breath-taking view. On the other side, the beach gives onto a rocky setting of rare beauty. This wonderful coast is covered by junipers, rosemary, rock rose and lentisk, whose heady scents blend with the fragrance of the sea, releasing a sense of harmony and freedom.
The place was named after the Tower of Flumentorgiu, known as Torre dei Corsari ('Corsairs' Tower'), built at the end of 1500 to watch and protect the coast against Barbaresque incursions. As a lone sentry, witness of its own past, the fortress looks onto the large beach in an extraordinary scenery. Both the village and the beach of Pistis are visible from there.
Among the surrounding dunes, a couple from Guspini has created a few spaces into the sinuate and twisted branches of a huge, century-old juniper, which they have called 'the Poet's House'.