Skip navigation bar and go to contents
Sports - Outdoor life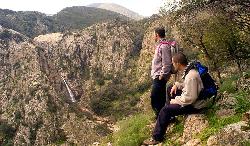 Wide spaces, varied landscapes and a mild climate, characterizing the region of Middle Campidano, allow to practice a number of outdoor sports in any season.
Mountains and sea invite to hillwalking and excursion activities, either on foot, by mountain bike or on horseback. Even more challenging sports, such as paragliding or canyoning, can be practiced in mountain watercourses and in proximity to waterfalls; also, granitic needles offer exceptional hand-/footholds to free climbing lovers.
Especially in spring, many important sports events usually attract a great number of enthusiasts and sportsmen/-women, who can take advantage of any occasion to enjoy a pleasant stay in the area.