Skip navigation bar and go to contents
Archaeological routes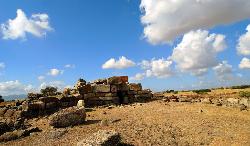 Locality: Nuragic complex 'Su Nuraxi' (Barumini) - Sant'Anastasia and Santa Maria de is acquas (Sardara) - Genna Marìa (Villanovaforru) - 'Sa Domu e s'Orcu' (Siddi) - Neapolis (Guspini) - Medieval borough (Sanluri)
Route type: by car
Travelling time: one or more days
Point of departure: 'Su Nuraxi' (Barumini)
The Middle Campidano, above all in the region of Marmilla, guards the most precious archaeological sites of the island.
Besides the famous Nuragic complex of Barumini, a UNESCO World Heritage site, they comprise the sacred well of Sant'Anastasia in Sardara; the complex of 'Genna Marìa' in Villanovaforru; 'Sa Domu e s'Orcu' in Siddi; the Phoenician-Punic city of Neapolis in Guspini; the Roman thermae of Sardara and a few important vestiges of medieval age: churches and castles, including the castle and medieval borough of Sanluri.
Yet there is even more. Archaeological routes in the Province follow a thousand directions, offering a chance to in-depth investigations and discoveries, by touring sites, often located in amazing places, or visiting the numerous museums, guarding local historical/cultural heritage.