Local dishes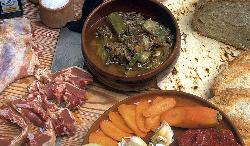 FAA E LARDU (BROAD BEANS WITH LARD)
To make this savoury and simple dish, you need the following main ingredients: broad beans, meat, lard, pork rind, chards, wild fennels, garlic and salt. Broad beans should be prepared in the previous evening, putting them to soak. On the following day, make a broth with meat, lard and pork rind, flavoured with dried tomatoes, parsley, chopped celery, onions, wild fennel and salt. Let it boil until cooked; then drain the broad beans, rinse them, then slit their skin on its length and cook them in the broth, adding some celery and chard leaves, with a whole, crushed garlic clove.
SOUP OF WILD FENNEL AND FRESH CHEESE
Wild fennel soup of is a simple dish, then all you need are genuine and savoury ingredients: wild fennels, onions, fregula, fresh cheese, lard, parsley and salt. Preparation is easy: chop the fennels and boil them until cooked through; add some slightly fried onions with parsley and lard, then add some salt. Finally, add the fregula and take it off the flame halfway through the cooking, in order to let it stew in the pot (covered with a lid) along with bits of sour fresh cheese.
LAMB WITH ARTICHOKES
This traditional dish of Campidano includes the typical products of the province: lamb, Sardinian thorny artichoke and Vernaccia. Strip the artichokes of their outermost hard leaves and scoop out the fuzzy choke. Quarter them and soak in lemony water for ten minutes. In the meanwhile, clean the lamb shoulder and cut it in medium-sized pieces. Chop garlic, parsley, onion and dried tomatoes and slightly fry with some oil in a sufficiently large earthen pot. Add the lamb shoulder and brown on a high flame, turning it frequently in order to have a homogeneous golden brown. Pour Vernaccia and let it evaporate, then lower the flame and cook for ten minutes more. Now add the artichokes, add salt to taste, cover with a lid and cook through, adding small amounts of hot broth from time to time.
LAMB TROTTERS
Ingredients: lamb trotters (ready for use), ripe tomatoes, onion, garlic, parsley, oil, salt and pepper. Wash lamb trotters (previously cleaned) in hot water. Place them in a pot with salted water and cook until the cartilage detaches from the bone. Drain them, take off the pulp and brown them in olive oil with chopped onion, garlic, parsley and peeled tomatoes. Sprinkle with salt and pepper and cook for about half an hour. For an optimal treat, this dish should be better served warm or cold.
LAMB WITH WILD FENNEL
The ingredients for this tasty traditional dish are lamb, onion, wild fennels, oil and salt. Cut the lamb in pieces and brown it in little oil, until the meat gets coloured. Add a chopped onion and brown along with the meat. Aside, boil wild fennels in salted water until cooked through; add them to the lamb with some cooking water. Complete the cooking in a pot without lid and serve the dish accompanied with red wine.
SU TRIGU COTTU (COOKED WHEAT)
Traditionally, a few centres of the area offer cooked wheat on New Year's Day. The ingredients to prepare it are durum wheat, milk, honey or sapa and a pinch of salt. Wheat has to be washed and boiled in salt water, until cooked through and swollen. Then drain and place it in an terra-cotta pot, covered and kept warm for at least 12 hours. Add honey or sapa, dissolving it in milk, in a pot on a low flame. By tradition, su trigu cottu is traditionally served in small bowls, offered to guests to wish them good luck and prosperity for the just started new year.
RICOTTA CAKE
A traditional sweet with simple ingredients: sheep's milk fresh ricotta, flour, baking powder, sugar, eggs, lemon and 'Villacidro Murgia', a typical local liqueur. Place fresh ricotta and sugar into a bowl, whip the mixture with a whisk until getting a fairly swollen cream. Separate yolks from whites and incorporate the yolks to the cream. Then add the flour, the baking powder and keep on stirring using the whisk. Add the grated lemon rind, the 'Villacidro Murgia' and finally the egg whites, beaten stiff. Bake the mixture in a mould for 40 minutes. Once cooked, sprinkle with icing sugar and serve with a liqueur or a sweet wine.ù
SU CIVRAXIU (FLAT BREAD OF SUPERFINE FLOUR)
The preparation of the traditional bread of Campidano requires: 1 Kg superfine flour of durum wheat for 50 g of natural leaven (su framentu) and salt. Sourdough has to be placed in a bowl and melted in a little warm water, then kneaded with five tablespoons of flour and let to rest for at least eight hours – or better, for a whole night. Then break up the mixture prepared with the starter dough, or 'mother sponge' (sa madrighe) and place it in the traditional terra-cotta pot (scivedda). Knead the remaining dough feeding flour and adding salted water from time to time. Knead thoroughly, using your fists (in Sardinian, such proceeding is said spongiai), until a soft and stretchy mixture is obtained. Cover with a cloth to prevent the surface from getting too dry. Let the dough leaven until it becomes elastic: now, after pressing a finger on it, it should take back its original shape. Divide the mixture in batches of about half a kilo, shape them as spheres, dust with some superfine flour and bake in a hot oven until they take on a golden brown colour.
SU FRAMENTU (STARTER DOUGH)
The only ingredients in the traditional preparation of the starter dough are flour, extra-virgin olive oil and a teaspoon of honey. Knead 100 g flour with a drop of oil, a teaspoon of honey and a little water, to obtain a soft and homogeneous mixture. Form a sphere, dust with flour and place in a bowl, covering with a thick, slightly wet cloth. Let the dough rest in a warm place for about three days, taking care to keep the cloth constantly damp, as the dough surface must not get firm. Once ready, add some water to the mixture, then 100g flour; knead accurately and put it to rest again, for two more days, according to the same proceeding as above. Following this second leavening period, su framentu will be ready for use. During bread making, a part of the new mixture is left aside and preserved in a glass jar, to be stored, tightly closed, on a dark place. It will be used as the yeast for a new mixture.