Plains and hills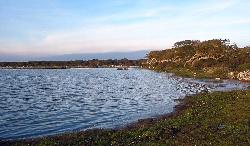 The province hinterland is marked by hills and plains in Marmilla and by the extensive plains of Campidano of Serrenti, Serramanna and Samassi. These lands have always been known and farmed thanks to the fertility and productivity of their soils. Since the age of the Phoenicians and, later, of the Romans, the area has been exploited for cereal, leguminous and vegetable cultures, besides vineyards and, partly, olive tree culture.
The regular pattern of flat lands alternates with hilly grounds composed by mammillary rises (knolls), originated by erosion processes on Recent Miocene formations; interestingly, the area was named after its characteristic hills.
The continuity of interchanged hills and plains is broken by an environment that is unique in Sardinia: the Giara (or better, Giare) of Gesturi, Collinas, Siddi, Setzu, Tuili.
The plateau represents a really autonomous ecosystem, hosting a distinctive vegetation and fauna, including the small Giara horses.