X Meeting degli utenti italiani GRASS e GFOSS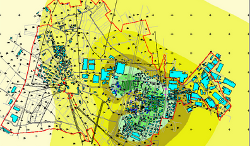 Monday, February 23, 2009 - REDAZIONE
Si terrà a Cagliari dal 25 al 27 febbraio 2009 il X Meeting degli utenti italiani GRASS e GFOSS. Il Meeting degli Utenti Italiani di GRASS e GFOSS da dieci anni rappresenta l'occasione principale in cui tutta la comunità italiana, attiva nel campo dell'informazione geografica libera, si riunisce per confrontarsi e discutere sugli sviluppi futuri nel settore. L'evento è organizzato dal CRS4 (Centro di Ricerca, Sviluppo e Studi Superiori in Sardegna), con il patrocinio dell'Università degli Studi di Cagliari, di Sardegna Ricerche e dell'associazione GFOSS.it. Il giorno 25 febbraio sarà dedicato ai corsi di formazione che si svolgeranno a Pula, presso la sede di Sardegna Ricerche. Le giornate del 26 e del 27 febbraio saranno invece dedicate al convegno con sessioni orali e poster e si svolgeranno presso la Facoltà di Ingegneria dell'Università degli Studi di Cagliari. Gli obiettivi del X Meeting comprendono la presentazione delle innovazioni GFOSS nei seguenti campi:
Sviluppi e personalizzazioni di software GIS liberi
Dati geografici liberi
GFOSS per la pubblica amministrazione
Formazione, divulgazione e sensibilizzazione nel campo del software libero
Interoperabilità e standard
Informazione geografica diffusa: web 2.0, GPS, LBS, etc
Ambiente e Territorio
Telerilevamento
Applicazioni di Geostatistica
Programma X Meeting utenti GRASS e GFOSS

Luogo: Aula magna della Facoltà di Ingegneria dell'Università degli Studi di Cagliari

26 febbraio 2009
08.30 Registrazione partecipanti
09.00 – 10.00 Saluto delle autorità
10.00 – 11.00 Relazioni invitate
"Grass 6.4.0"
Markus Neteler
"Il software libero e il GIS"
Giulio Concas
"Il punto sulle attività dell'associazione GFOSS.it"
Paolo Cavallini
Sessione "Sviluppo e personalizzazione software"
(coordina M. Neteler)
11.00 – 11.20 "RATMAN: Rapidly Adaptive Terrain Models Available on the Net"
Bettio F., Gobbetti E., Marton F., Pintore G.
11.20 – 11.40 "What's new about QGIS 1.0"
Cavallini P.
11.40 – 12.00 pausa
Sessione "Ambiente e Territorio I"
12.00 – 12.20 "AGISGRID working progress in the GRIDA3 project"
Demontis R., Lorrai E., Marrone A., Muscas L., Spanu V., Vacca A., Valera P.
12.20 – 12.40 "Aerogenerators: a simple GFOSS tool"
Minelli A., Marchesini I., De Rosa P., Casagrande L., Cendi L., Martini E.
12.40 – 13.00 "Fabric analysis in archaeology. Proposal of a method for the collection and the data processing with GRASS, PostGIS and R"
Francisci D.
13.00 – 13.20 "Ecological indicators extracted from satellite data: high performance computing with GRASS"
Neteler M.
13.20 – 14.30 pausa
Sessione "Ambiente e Territorio II"
14.30 – 14.50 "Strata bedding interpolation"
Cencetti C., De Rosa P., Fredduzzi A., Minelli A., Marchesini I.
14.50 – 15.10 "Numerical model in GRASS to obtain maps of flood inundation due to dam breach"
Marzocchi R., Cannata M.
15.10 – 15.30 "Semantics of Environmental data"
Valera P., Garau A., Marcello A., Mazzella A., Muscas F., Pretti S.
15.30 – 15.50 pausa
Interoperabilità e Standard
15.50 – 16.10 "GeoNetwork – Metadata catalog implementation in France and Switzerland"
Jonglez D.
16.10 – 16.30 "Sensor Observation Service: the hydrometric monitoring network portal of the Institute of Earth Sciences"
Cannata M., Antonovic M.
16.30 – 18.30 Assemblea soci gfoss.it
21.00 cena sociale
27 febbraio 2009
Sessione "GFOSS per la Pubblica Amministrazione&rdquo
(coordinano E. Lorrai e M. Negretti)
09.00 – 09.20 "Use of open and free software in the Geographic Information System of Sardinia Region"
Manigas L., Beneventi M.
09.20 – 09.40 "Sistema Informativo Regionale Ambientale (SIRA)"
Sannio N.
09.40 – 10.00 "Open DiViSe (Discovery and View Services): an open insfrasture prototype for Lombardy"
Beretta M., Brovelli M., Negretti M.
10.00 – 10.20 "A WEB-GIS solution for the publication of statistical indicators in the Sardinian Region"
Chiecchia A., Devola L., Loddo S., Pascalis A., Pili M.
10.20 – 10.40 "The reengineering of municipal SIT using applications and components open-source: the case of the PUC the City of Sassari"
Vaquer A.
Sessione "Informazione geografica diffusa"
(coordinano M. Cannata e R. Demontis)
10.40 – 11.00 "Alveo KML connector, a tool for the on-line publication of spatial data on Google Earth."
Marucci F., Zoppellari C.
11.00 – 11.20 "Free software and geodetic measurements: integration between local and global positioning systems"
Di Stefano M., Costa S.
11.20 – 11.40 pausa
11.40 – 12.00 "EC4GPS: e-Collaboration for DGPS/GPS data distribution and receiver device evaluation"
Brovelli M., Tran T., Nguyen T.
12.00 – 12.20 "MapFish – WebGIS 2.0 development framework based on GeoExt and Open Layers"
Jonglez D.
12.20 – 12.40 "Open source solutions for Geospatial BI"
D'Ovidio F., Villari M.
Sessione poster
(coordinano E. Lorrai e L. Muscas)
12.40 – 12.50 "Open source tools for wildlife data: HomeRange plugin for QGIS"
Ghisla A., Preatoni D., Keitt T., Tosi G.
12.50 – 13.00 "Open source tools for wineyard management, a case-study: Cantine Ferrari"
Dallago G., Fontanari S., Galea A., Luchi M., Menegon S., BlazeK R., Scaravonati L."
13.00 – 13.10 "Interfaccia GRASS-EPANET: uno strumento di interoperabilità"
Ciolli M., Rigetti M., Sboarina C., Tattoni C. Vitti A., Zatelli P., Bertola P.
13.10 – 13.20 "Open source tools for wildlife data: the SOS system for the production of biodiversity maps"
Carro M., Preatoni D.G., Tosi G.
13.20 – 13.30 "Open source tools for wildlife data management: evaluation of kilometric indexes of abundance"
Tattoni C., Preatoni D.G., Bisi F., Masseroni E., Lunardi S., Grimod I., Martinoli A., Tosi G.