Skip navigation bar and go to contents
Nature - From the mountains to the sea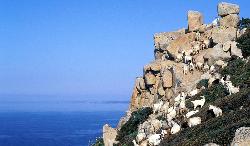 Green and naturalistic environments of this province offer an all-embracing variety of landscapes and colours, so there is plenty to choose from.
We recommend visitors to explore the territory in various directions, in order to seize all its different aspects and settings: hills, blooming meadows, mountains and sea.
We would like to suggest a few possible itineraries, from the hinterland to the coastlines. Along the way, the routes may give hints about the sea, showing breath-taking views that merge the mountains to the sea, the hinterland to the coastlines.
The most beautiful natural environments of the Province may be explored either by car or on foot, following convenient asphalt/dirt roads, or real excursion routes of different levels.