Skip navigation bar and go to contents
Mount Arcuentu (Arbus)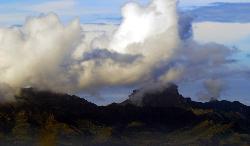 Along the road connecting the hinterland to the coast, the landscape is marked by a long series of varied ridges, consisting in a regular succession of sedimentary and volcanic rocks, making the granitic massif of the Arbus region.
The major peak of the territory is represented by the 785 m of Mount Arcuentu, standing out in its typical shape as a long system of volcanic ridges of wild and rugged appearance. The volcanic massif, dating from the Cenozoic era, is formed by giant stone walls, squared and smooth, resulting from the solidification of ancient lava sheets. Since the Middle Ages, it was used as a watch point to defend the territory.
A woodland of ilex still survives there; its great panoramic views allows to admire mining areas and a most long stretch of coastline.
There are even the vestiges of an ancient manor, besides a few altars and a Crucifix placed in memory of Fra' Nazareno, who spent 15 days of spiritual retreat on this peak, in 1987.