Mines - Underground wonders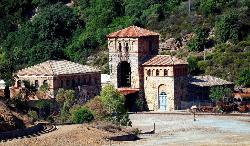 For more than 8000 years, peoples inhabiting the island have exploited the rich mining ores in order to extract copper, silver, lead and other minerals from them. Yet, it was only during 1800 that the major mines started their activity. The sites, villages and boroughs that they have left, still visible today, are characterized by a refined architecture, sunk in a combination of remarkable natural environments, from the mountains to the sea.
Lots of mining sites in the Province are now comprised in the Geo-Mining Park of Sardinia: Guspini and Arbus, with their mining complexes of Montevecchio and Ingurtosu, Gonnosfanàdiga, with 'Perd'e Pibera' and Villacidro, with 'Canale Serci'.
All the villages in this Province have been influenced by mining activities, even those laying at a considerable distance from the mining sites. Indeed, a lot of people from the villages on the plains or from the region of Marmilla used to relocate in the mining centres, abandoning their fields and agro-pastoral activities to find a job. A real revolution of social and economic balances occurred within a whole, broad territory.