Sea and coastlines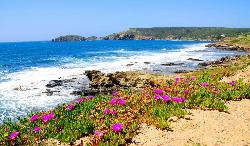 An amazing variety of beaches and cliffs characterizes the coastlines in the province of Middle Campidano. Marine areas are comprised within the territory of Arbus; they extend for about 47 kilometres. Among the best known locations (from south to north) are Capo Pecora, Scivu, Piscinas, Portu Maga, Campu 'e Sali, Gutturu 'e Flumini, Funtanazza, Porto Palma, Torre dei Corsari, Pistis and, finally, the headland of Cape Frasca, at the borders with the province of Oristano.
Long sandy strips, either most fine and white, or coarser and rich of multi-coloured shell fragments, alternate with rocky bays and imposing cliffs, 20 to 60 metres high. Looking onto the sea, then, the dunes are real deserts of sands, surrounded by the Mediterranean maquis, making a home to numerous exemplars of Sardinian deer.
They call it 'Costa Verde' (Green Coast) because of the shrubs of lentisk and arbutus, the pinewoods, the scented bushes, rock roses, helichrysum beds or colonies of twisted and sinuate juniper covering the hills and the surrounding dunes touching the sea.
Yet, it could also be defined as the coast of silence – the silence of villages, mostly abandoned, which have symbolized the golden age of mines for so long; and, most of all, the silence of beaches, stretching out for kilometres, irregularly interrupted by dark cliffs.
The area is mostly frequented by tourists looking for some tranquillity, as these territories have not been violated by the wild urbanization that has changed the aspect of many coastlines of Sardinia.
Small summer boroughs looking onto a few beaches, old tuna fisheries, Spanish towers and ancient mining buildings, all concur in creating a few almost unreal, certainly unforgettable settings, dominated by nature, wind and breaking waves.