Eleonora's abodes and places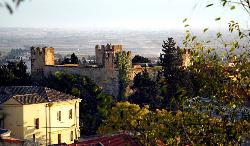 Locality: Castle of Marmilla (Las Plassas) - 'Castello giudicale' (Sanluri) - Castle of Monreale (Sardara) - church of San Gavino (San Gavino Monreale)
Route type: by car
Travelling time: one or more days
Point of departure: Castle of Monreale (Sardara)
In the Middle Ages, between the 10th and the 14th century, Sardinia was divided into local kingdoms: Cagliari, Torres, Gallura and Arborea, four independent states born from the ashes of the older Byzantine jurisdictions.
The kingdom of Arborea comprised a large region of the present Province of Middle Campidano. It was this kingdom that fought the longest against Iberian domination, to defend its own autonomy and that of the whole Island.
Throughout the history of the kingdom and of Sardinia, strategically important events took place in the territory of the Province, especially in Sanluri, as the ancient manors and dwellings of the period confirm, in addition to the traces left in rites and customs, which reveal a marked medieval origin.
Castles were usually located upon high grounds, to dominate the surrounding valleys below. This validates the strategic significance of the area, as in the case of Arcuentu, Las Plassas, Monreale and, above all, the castle of Sanluri, now standing as the only medieval residence to be still inhabitable in Sardinia.
Other than the castles, the church of San Gavino is located in the homonymous municipality. It guards four figures, sculpted in the corbels of the apse, probably featuring the sovereigns of the ancient household of the kings (giudici) of Arborea, including the outstanding figure of Eleonora d'Arborea.