The ways of faith: ancient rites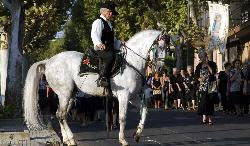 Locality: Barumini, Furtei, Gesturi, Gonnosfanadiga, Pabillonis, Pauli Arbarei, Segariu, Turri, Ussaramanna, Villacidro
Route type: by car
Best period: January, Easter, August
Religious traditions and ancient popular rites have been handed down in the province as essential parts of a deep-rooted religious and popular history, linked to daily life and to the earth and fields cycles as well.
Those who are specially interested may assist to various religious and popular events throughout the year, where celebrations in the honour of Saints are coupled with events closely related to daily life and folklore.
Fire is often a protagonist in dancing, singing, celebrations, banquets and propitiatory rites of a number of festivals, such as the rites dedicated to Sant'Antonio Abate, taking place in Villacidro, Pabillonis, Ussaramanna, Gonnosfanadiga, to San Sebastiano, celebrated in Barumini, Turri, Furtei, Segariu, and to San Vincenzo, worshipped in Pauli Arbarei.
Wheat is also a celebrated element: at Easter, it is offered as white wheat sprouts (called su nenniri); on the occasion of weddings, it is thrown on the newlyweds and guests to wish prosperity and happiness; on New Year's Day, in Villacidro, it is offered in bowls, boiled and flavoured with sapa, to wish fertility and a good harvest for the new year.
Also, there are more curious events, focusing on horses and donkeys, such as the Palio degli asinelli taking place in Gesturi in August, or sumptuous processions with lots of horses parading in the honour of a Saint, along with yokes of oxen leading processions of traccas (carts richly adorned with flowers and wreaths).