The Province in purple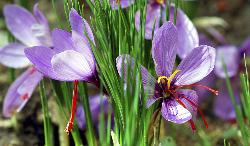 A far as food-and-wine and local productions are concerned, the Province can boast a supremacy in various domains. Among them, saffron production is especially renowned. San Gavino, Turri, Villanovafranca and a few other centres (although in lower amounts), have made of the area the major producer of saffron in Italy, for over 50% of domestic production.
Dishes based on this precious spice may be tasted all year-round; yet, it is in autumn, namely in November, that the whole Province really turns purple. Going down the roads connecting urban centres, the eye-catching sight of entire fields tinted in purple shows farmers engaged in the collection of the delicate saffron flowers.
The main production centres organize fairs to offer visitors a chance to taste delicious dishes aromatized with saffron. On such occasions, streets and shop windows are remarkably decorated of a nice purple colour and producers and craftsmen show their products in market fairs. Moreover, the sights of little towns are made available to visitors.
Lots of manufacturers, either in the days of the fair and throughout the year, commonly open their own firms to visitors, sometimes organizing specific theme-days.
Local restaurants, too, offer a wide variety of dishes flavoured with saffron: first courses, such as ravioli or the typical gnocchetti in Campidano style; second courses, mostly based on meat; traditional sweets, such as pardule, zeppole and even a most innovative saffron-flavoured ice-cream!