Mountains - the Linas Massif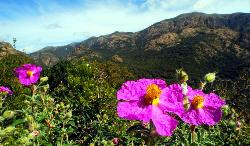 In the western region, the province of Middle Campidano is dominated by the Linas Massif, originated 600 - 300 million years ago, in the Palaeozoic age. Along with the Sulcis, it is one of the most ancient lands above sea level in Europe, of special geological, faunistic, floral and historical/mining interest. The Linas extends in the north with Mount Arcuentu, reaching the coasts of Arbus, and in the south towards the mounts of Oridda-Marganai; it borders the plain of Campidano in the north-east.
Several peaks offering great views exceed the height of 1000 m, with 1236 m of Peak Perda de sa Mesa, the highest of the whole range, partly comprised within the territory of Villacidro and Gonnosfanadiga.
Remarkably interesting from a geo-morphological point of view, the complex is grooved by a number of canyons where streams flow. In their descent towards the valleys, they frequently create spectacular and powerful waterfalls, such as those in Piscina Irgas and that of Muru Mannu, the highest in Sardinia, measuring 72 m.
Crystal-clear schist and pink granite prevail in the mountain landscape, rising at the heart of a rich metalliferous area that has been extensively exploited since ancient times, as confirmed by the numerous ruins of mining plants scattered throughout the area: Montevecchio in Guspini-Arbus, Ingurtosu in Arbus, Perd'e Pibera in Gonnosfanadiga and Canale Serci in Villacidro.
The air is scented by thyme and helichrysum green bushes, looking like dots among peaks of pink and grey granite. The forest heritage mainly consists of evocative, thick ilex groves and typical shrubs of Mediterranean maquis, with splendid exemplars of arbutus, tree heath, Phyllirea and big maples. At lower heights, the vegetation is marked by shrubs of rock rose, lentisk, wild olive, heath, broom and, in the rocky areas, euphorbia. The wettest areas, especially in proximity of watercourses and falls, are characterized by willows and oleanders.
Among the other species, a good 45 are endemic to Sardinia, such as Helichrysum Montelinasanum, Euphorbia, Amygdaloides, Poa Balbisii, Scilla Obtusifolia, Aristolochia Tyrrena, Silene Nodulosa, Festuca Morisiana, Veronica Brevistyla.
A number of birds of prey dwell in these places: the buzzard, the peregrine hawk, the kestrel, the sparrowhawk and even a few exemplars of royal eagle, nesting in the highest and most remote needles. Also, there are Sardinian deer, mouflons and even Speleomantes.
A thick entangle of paths entering the woodland towards the highest peaks and the numerous waterfalls offers an opportunity of relaxing walks into the forests.