Guspini-Arbus, mine and hamlet of Montevecchio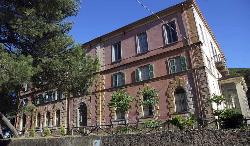 The history of the mine of Montevecchio dates back to an ancient past, as the ruins found in the locality of Sciria, near a cropping-out lode, even refer to the pre-Nuragic age.
Despite of that, the earliest document confirming the mining activity in the area dates back to 1628. It consists of an edict concerning the concession of Sardinian mines – with special reference to Montevecchio – to Giacomo Esquirro. Subsequently, under the domination of the house of Savoy, mining underwent several managements until, in 1848, a changeover occurred. Indeed, an entrepreneur from Sassari, Giovanni Antonio Sanna, had obtained a permanent concession for the exploitation of mines of Monte Vecchio area, in the territories of Guspini and Arbus. This marked the beginning of a human and social adventure that would last over 150 years, until 1991, when the last shaft was closed down and the mining activity came to an absolute end.
Throughout this long time span, lots of circumstances have changed in Montevecchio: the hamlet was expanded, becoming one of the most important mining sites in Europe; from a mining borough, it turned into a small town provided with a hospital, schools, a post office, a cinema and a sports ground, embellished by a number of buildings hosting the mining company's administrative offices. Following the closing of mines, the borough was progressively abandoned; at present, about 400 inhabitants live in the buildings formerly occupied by mining technicians and workers.
The past grandeur is witnessed by the many, elegant buildings and small palaces characterizing the quarters of 'Levante' and 'Ponente' and, most of all, the locality of Gennas, i.e. the hill where the hamlet was raised, marking the boundary between eastern and western ends.