Skip navigation bar and go to contents
Arbus, mine and borough of Ingurtosu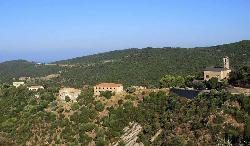 Between 1880 and 1900 the hamlet of Ingurtosu, now almost uninhabited, was one of the most populated mining centres of the area. It rose in the second half of 1800, when a number of workmen's small houses were built around the earlier mining sites and the 'Maria Teresa' shaft building, later used as a post office.
For several decades, local mining activities were directed by English and French executives, including the site owner, Lord Thomas Alnutt, Viscount of Brassey, a prominent figure in mining history at an international level.
The numerous vestiges of the village are dominated by the Directorate Palace, built in 1870. The edifice is perched on the upper region of the borough, facing the sea; its particular architecture, of neo-Gothic style, with wooden features recalling Nordic buildings, singles it out among the neighbouring structures.
Now almost completely abandoned, the hamlet of Ingurtosu is immersed in a fascinating setting, where a thriving greenery has been reclaiming its space by covering the ruins of the ancient mining facilities. The nearby beach of Piscinas and the extensive dunal system on its backdrop concur in making Ingurtosu a uniquely evocative place.