The Giara of Gesturi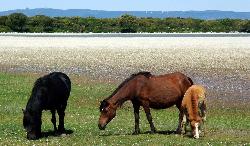 This worldwide known plateau owes its fame to the 'small horses of Giara', an autochtonous Sardinian breed, resulting from a crossbreeding between a horse and a pony; they can reach 1.20 m at the withers. The small horses live in the wild state, perfectly integrated in their environment, consisting of a thriving vegetation of ilex groves and cork oaks, typical Mediterranean maquis and a number of botanical species.
In the past, the area was probably defended by twenty-three nuraghi, including the Nuragic settlement called 'Brunku Màdugui', where the homonymous fortress (also called 'Bruncu Madili') is considered among the most ancient ones in the whole Island.
A walk about the highlands will show several sheepfolds, recently restored; they are normally built in a conical shape, with stone foundation and a thatched roof.
An appreciated mushroom variety named pletorius grows in this territory, among a wide-ranging diversity of wild flowers.
The spring of drinkable water called 'Mitza 'e Santa Vittoria' is another natural beauty, where the ruins of a small church dedicated to the Saint confirm the ancient frequentation of the site.