Flora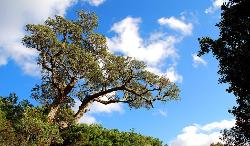 ILEX
The ilex is a widespread evergreen tree species among local mountains. It can reach 25 m of height and is characterized by lanceolate, coriaceous leaves, with scarcely striking flowers and oblong acorns, borne in a scaled cupule. It is a very resistant plant, growing on dry and impervious grounds, once used to produce coal and as a feed for livestock.
CORK OAK
The cork oak is an oak grown to produce cork, a groovy, grey and fissured rind coating its trunk, which have always been used in handicraft manufacturing. It is an evergreen tree, whose longevity can reach as much as 300 years; its features are coriaceous dark green leaves, spring inflorescences and autumn acorns.
OLEASTER
The oleaster is a tree, or shrub, of medium height and expanse foliage, with lanceolate and coriaceous leaves and a twisted, gnarled trunk that can reach a considerable size in the oldest plants. An important feature of wild olive trees is their longevity, characterizing lots of millenary exemplars in Middle Campidano. In addition, grafted plants can yield olives, i.e. oleiferous drupes making a precious source for oil production, widespread in the whole territory of the province.
LENTISK
The lentisk is a common shrub in the island countryside, characterized by a largely branched foliage, with bright green leaves and typical red berries, assuming a brown colour when ripe. In the past, when pressed, they used to yield an oil used in cookery or to feed oil lamps. Its leaves, rich in tannin, release a substance used in fabric dying.
ARBUTUS
The arbutus is a shrub of oval-shaped leaves, crenate at their margins, similar to laurel leaves, with characteristic bell-shaped, white-pink flowers, blooming in autumn months. In the same period, the typical red, fleshy fruits, with a rough surface, can be tasted either in the mountains or as excellent jams. In addition to its officinal properties, it is also a honey-producing plant, whose delicious honey has got a characteristic, slightly bitter taste.
MYRTLE
The myrtle is a characteristic plant of the island flora, strongly linked to Sardinian customs and folklore. Typically, it shows glossy green leaves, white spring flowers of an intense scent and small black berries of a distinctive bitterish taste. It has always been used as an ornamental plant for the beauty of its leaves and flowers, as well as in cooking, to aromatize barbecues and game meat, but also in the preparation of sauces and excellent liqueurs.
ROCK ROSE
The rock rose is a typical shrub of Mediterranean maquis, particularly resistant and coriaceous, growing in dry and rocky grounds along the coasts and in the mountains. It has got large, solitary flowers of a delicate colour, pink or white according to the species. Its leaves are dark-green coloured and sticky to the touch.
JUNIPER
The juniper is an evergreen shrub, with needle-shaped and pointed leaves, poorly showy flowers and roundish, dark-reddish berries, which are edible and used in medicine for therapeutic use, or else in cooking to add taste to food, especially meat. It grows among the maquis and in mountain woodlands, but also along rocky coasts and sandy dunes, thanks to its special resistance against the wind and drought. Its twisted and sinuate trunks characterize the extended beaches and dunes along the coasts of this province.
WILD SAFFRON
The wild saffron, or Crocus vernus, is certainly the most known and earliest messenger of spring: indeed, it blooms from January to April in wet meadows at the margins of vegetation. It is a perennial bulbous plant, with thread-like leaves marked by a white, central rib, and wonderful, usually solitary flowers, of purplish or white colour and a cupped corolla.
WILD LAVENDER
Wild lavender is a wild perennial herbaceous plant, strongly aromatic, with oblong grey-green leaves and flowers collected into spikes, standing upright upon the leaves. The purplish flowers, characterized by an intense, heady scent, acting as a call for butterflies, has got officinal properties and has always been used to perfume the laundry.
HELICRYSUM MONTELINASANUM
The Helichrysum montelinasanum is an endemic species to the massif of Mount Linas. It is a small perennial shrub growing in mountainous areas at 800 m a.s.l., with narrow and linear leaves and small white flowers, blooming in the months from May to June.
ASPHODELUS
The asphodelus is a typical plant of the Mediterranean maquis, commonly found in the island countryside and in the unfarmed or pasture lands. It presents typical lanceolate, linear leaves and branched inflorescences, with numerous white flowers, blooming from February to June. It is an officinal plant renowned for its honey-producing properties: asphodelus honey, indeed, is typically light-coloured and has got a delicate taste. In this province it is easy to observe long expanses of blooming asphodelus among farmlands, or even reaching the boundaries of inhabited centres.