Basketry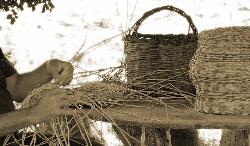 Being Sardinian vegetation rich in shrubs, it has always been an ideal supplier for basketry. Raw materials used were different: in the territory of Villacidro, rush, reed, willow and wild olive, while in the whole island, wicker from willow trees, wild olive, lentisk and reed.
Typical baskets were of two kinds: those made by men were rustic, used for working, fishing and picking purposes; those made by women, meant for domestic use, were more accurately detailed, enriched with decorations to enliven the household spaces. Sometimes they were made in large size, such as sa crobi, a very large basket used to work flour, dough and bread. Today, having lost their original functions, they have acquired a decorative purpose.
Basketry involved a whole community, both in picking and production stages; every family had a set of baskets, called su strexiu de fenu, which included 3 baskets and 3 flat baskets (crobis or corbule), all shaped as an inverted, truncated cone.
Basket makers' trade is still alive in lots of villages of the province. Everywhere, ancient and modern forms have mixed together to create multicoloured and multi-shaped objects.