The colours of tradition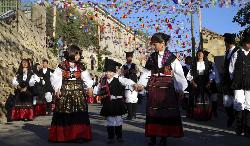 The rich traditions of Middle Campidano are also expressed through the variety of colours and fabrics. Feast costumes, multi-coloured and variously characterized, are the protagonists of the most important occasions. Men, women and children wear elegant and fine attires for the celebrations in the honour of the Saints, as an unquestionable element of the feast. Every village has got its own costume, jealously guarded as a precious work of art, showing a multiplicity of forms, shades and embroidered decorations.
The different outfits of the area can be admired on the occasion of celebrations, in particular during medieval festivals such as the Feast of the Borough and Sa Batalla of Sanluri, focused on ancient traditions of medieval age; during the processions in the honour of Sant'Isidoro, farmers's protector (Villacidro, Pauli Arbarei, Guspini); in the sumptuous procession accompanying the simulacrum of Sant'Antonio from Arbus to the borough of Sant'Antonio di Santadi; in Santa Maria Acquas of Sardara, as well as any time dedicated to festivals and celebrations.