Food-and-wine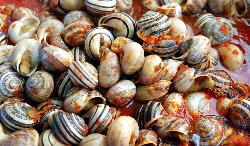 Even though it is mainly characterized by the plain of Campidano, the Province presents a broad variety of landscapes: from the hills of Trexenta to the gentle slopes of Marmilla, from the highlands of Gesturi to the mountains of Villacidro and Arbus, reaching the sea next to the wonderful dunes and beaches of Costa Verde.
Such an environmental diversity matches with a large food-and-wine assortment, deeply rooted in the specific ecological factors and history that have been marking local culinary traditions in time.
Villages of Campidano and Marmilla may share a few features, such as the typical bread of this area, called civraxu, a big flat bread with a crispy, dark crust and a soft pulp.
Vegetable soups flavoured with lard and wild herbs reflect the poor economy of the past, when dishes were based on vegetable garden products, including olives and artichokes, and on courtyard livestock meats,simply seasoned with olive oil.
All these essential, genuine products make the foundation of an ancient cookery.
Also, the ravioli with ricotta filling and the typical malloreddus (the famous gnocchetti, widespread in the whole region) have got a common source, that is the wheat of Campidano.
Being rural commodities so many, a lot of traditional local dishes are naturally based on them: snails (called boveri or tappadas) are considered a real delicacy; asparaguses, thistles and mushrooms can be tasted either in elaborate dishes or prepared with the distinctive simplicity of Sardinian cooking.
Going towards the farthest territories of Campidano, at the foothills of mountains, the most typical products are related to sheep breeding, as a number of cheese qualities and meat-based dishes (kid, lamb and game). Game, generously supplied by local forests, represents an important food resource for dishes based on partridge and wild boar meat.
Along the coastlines, food-and-wine tradition is still closely linked to seafood. Fish, shellfish and crustaceans are consumed either grilled, fried or boiled in typical soups smelling of the sea.
Last but not least, traditional local sweets, made with almonds, honey, saffron, fresh cheese and ricotta, are prepared according to recipes handed down in time, whose harmony of flavours recalls the tastes of an ancient land.