Skip navigation bar and go to contents
Food-and-wine - Flavours and tastes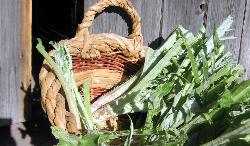 The food-and-wine and agro-industrial offer of Middle Campidano is so wide that it is not easy to single out one itinerary in particular.
The best way to find out local delicacies is to follow flavours and colours along the streets of the villages. Here it is common to smell an intense flavour of freshly baked bread, or to be captivated by colourful fruits and vegetables on display in the open markets, in the shops or even on the thresholds and yards of private houses. There local products on sale are often arranged in a picturesque way, either upon traditional stools (scanni) or suspended into nice bags, in a variety of farmed (such as fruits and vegetables) or spontaneous products (such as mushrooms, asparaguses, wild chicory or even snails).
Not to be missed, many fairs are dedicated to specific dishes or products. They may be an opportunity to find out and taste the most different delicacies, or to visit local firms, which are always glad to welcome visitors.
Good cooking can also be tasted in many local restaurants and farm-restaurants; thus, what you have to do is just preparing your mouth to delicious food-and-wine explorations!
Mines and wilderness


The suggested itinerary starts in the territory of Villacidro, in the State area of 'Monti Mannu'. Here, sunk in the greenery and partly occupied by the offices of the State Forests Authority, the structure of 'Canale Serci' Mine is still visible...

The Province in purple


A far as food-and-wine and local productions are concerned, the Province can boast a supremacy in various domains. Among them, saffron production is especially renowned. San Gavino, Turri, Villanovafranca and a few other centres (although in lower amounts), have made of the area the major producer of saffron in Italy, for over 50% of domestic production...

The wheat routes


Wheat culture is deeply rooted in this Province. Enhanced by the fertility of its lands, it dates back to most ancient times: the Phoenicians exploited farming resources and it is said that the Romans had made of the island – and of Marmilla, in particular – the breadbasket of Rome...