Dunes of Piscinas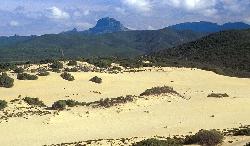 The dunes of Piscinas, among the most extended in Europe, have been recognized as a World Heritage Site by UNESCO. They stretch towards the hinterland for about 2 km, reaching a maximum height of about 100 metres – a variable datum, though, as they are moving, 'living' dunes, incessantly modelled by the mistral wind. The ancient bay has been progressively filled by debris carried to the sea by the streams Rio Naracauli and Rio Piscinas.
Unlike desert dunes, those of Piscinas have been colonized and consolidated, in several sites, by a specific vegetation that has adjusted to such a hostile environment: century-old individuals of Large-berry and Phoenicean junipers, lentisks, brooms and euphorbia, mixing with large expanses of tamarix and rush in proximity of watercourses and wetlands.
The fauna is characterized by the presence of the Sardinian partridge, besides wild rabbits and cats, foxes, kestrels and buzzards. Yet the wonders are not over: here the loggerhead sea turtle Caretta caretta lays its nest; during June and July nights, it goes up the shoreline to lay its eggs into the sand. Also, deer exemplars can be watched near the dunes or along the watercourses, late in the afternoon.