Tuili churches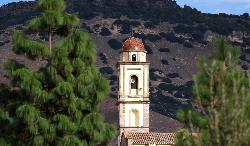 The church of San Pietro Apostolo was raised in 1470 in the upper part of the village. It has got a simple structure, with single nave and barrel vault. The main door, originally built in wood, was remade in 1981 in bronze and copper, decorated by the same motifs. Inside are a fine marble altar of the 19th century, some frescoes with stories of Saint Peter, along the nave and an 18th-century baptismal font supported by an angel, enclosed by a precious gate in wrought iron.

Yet, the most valuable work that has made Tuili known beyond the regional boundaries is the retable by the Master of Castelsardo, a Renaissance masterpiece acknowledged as a National Monument, located in the first chapel of the edifice. It is an imposing altar-piece with double triptych, painted in tempera and oil on wood. In the central part of the painting is a picture of the Virgin in throne with the Child, four musician angels and two angels supporting the crown. On the background of all the panels are Flemish landscapes and scenes of daily life.
Another religious edifice sited at the entrance of the village is the church of Sant'Antonio, raised in Spanish style in the 16th century, once adjacent to the monastery. The church is protected by high walls and a gate, encircling the church square with the cumbessias, ancient shelter for pilgrims coming on the occasion of the feast; a market also took place there in the same period. The church has got a Latin cross plan and guards a wooden altar in Baroque style, composed by four spiral columns supporting a trabeation decorated in floral pattern, dentils and heads of small angels.