Serrenti churches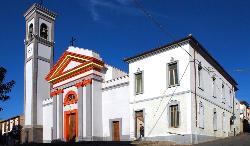 Serrenti, like Segariu, used to be called 'the village of the seven churches'; despite this, only a few of them have survived. The parish church of the Immaculate Conception, built in the 14th century in Gothic-Aragonese style, collapsed in 1930; now it is deprived of the original bell tower. The church of Santa Vitalia, raised at the end of the 13th century in Romanesque-Gothic style inside the inhabited centre, is normally kept closed, to be opened on the occasion of the festival in the honour of the patron Saint, besides in a few other circumstances. Its original plan was structured as a rectangular hall, with apse, covered by wooden trusses; the church was then modified starting from late 19th-early 20th century, when the original plan was completely changed.
The church of San Giacomo, also of Romanesque style, is located in the old centre. Annually, a very special feast takes place in the honour of the Saint: the faithful pick up some reeds in order to make a thatched roof; such shelter will be used for the whole duration of celebrations.
Other churches, located in the countryside of the village, are now reduced to ruins or they have simply disappeared. This is the case of the churches of San Silvestro Papa, San Sebastiano, Saint Anthony of Padua, Santus Angius and Santa Barbara.