Skip navigation bar and go to contents
Villacidro, mine of 'Canale Serci'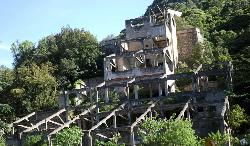 The mine of 'Canale Serci' has left a number of vestiges of edifices and structures: the works, miners' houses and directorate building. This latter has been restructured and is now used to host the offices of the Forestry Authority of Sardinia.
In 1873, some traces of mining activity dating back to the Nuragic age were found. They mainly consist of short and rudimentary galleries, containing heaps of dug-out material as well as a considerable amount of cassiterite.
The structure is located in a mountainous area, within the state property of Monti Mannu; now a lushing vegetation has wrapped up all that has been left from the mine.