Sanluri, medieval borough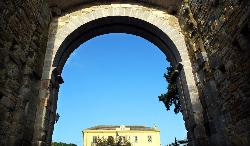 Stretching to the south of a castle built in the period of Sardinian local kingdoms this small borough has got most ancient origins. It was enlarged in the Middle Ages, when it attained a significant role; indeed, during the early years of the 14th century, it had become the chief town of the curatoria (a sort of district) of Nuraminis. Ancient houses a few village churches can be admired while walking down the side-streets paved with traditional cobble stones: among them, the churches of San Lorenzo, San Martino, San Pietro, the parish church of Our Lady of Graces and Capuchins' ethnographic museum . The village is enlivened by the 'festival of the borough' in late September.
Sa potta de su casteddu
The gate granting access to the borough was built in the mid-14th century, along with the other fortifications and three supplementary doorways, following a peace treaty signed between the sovereigns Peter IV the Ceremonious (king of Aragon) and Mariano IV (Giudice of Arborea). The Giudice had the fortress built in order to relocate foot soldiers and knights, residing in Cagliari and Iglesias, in the proximity of the castle. The entranceway in the direction of Sardara was originally 12 metres high, closed by a large door with two shutters and a portcullis. The building had been set back from the circumvallation in order to ensure a safer lateral defence.