Skip navigation bar and go to contents
Art and Culture - Along the paths of history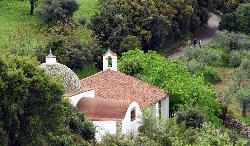 The Province of Middle Campidano offers a wide range of historical, artistic and cultural resources. As the long frequentation of the area dates back to most ancient times, it has left deep-rooted traces, in its monuments, its traditions and in the most varied expressions of local culture.
Creating itineraries implies making a choice; what we suggest is to have a look around, in order not to miss any detail. The overall vision includes an ample repertoire of history, culture, places of interests and evocative perspectives.
The beauty of sites and monuments is often completed by the really amazing landscapes and natural sceneries they are inserted in, making tours even more fascinating and exciting.
Mines and wilderness


The suggested itinerary starts in the territory of Villacidro, in the State area of 'Monti Mannu'. Here, sunk in the greenery and partly occupied by the offices of the State Forests Authority, the structure of 'Canale Serci' Mine is still visible...

Romanesque churches and ancient shrines


In Middle Campidano, lots of churches are sunk in the greenery of the most picturesque sites of the territory, enclosed by woodlands of olive trees and ilexes. They reflect an agro-pastoral civilization that used to associate daily activities to manifestations of faith...

The novel way - Cultural Park 'Giuseppe Dessì'


Walking down the streets of the old centre of Villacidro is somewhat like browsing the pages of novels such as Paese d'ombre, Il disertore, San Silvano. It is a fascinating and unique way to discover the most evocative corners of the small town, to seize its intrinsic meaning...