Industrial Archaeology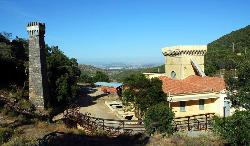 Essentially, industrial archaeology in this territory refers to mining activities. Indeed, the territory of the Province of Middle Campidano has been included in the Geo-mining Park of Sardinia, comprising a number of interesting and pleasant mining sites. Many of them are strongly evocative and sought for by tourists, onlookers and enthusiasts. Either located in proximity of the sea, or sunk in woodlands vegetation, they are usually inserted in most valuable and fascinating environmental settings.
The mining world also left its widespread, deep-rooted signs throughout the territory, along with its remarkable heritage of collective memory and human history. As a result, social balances and economic/production cycles were conveyed into the industrial mining centres and, consequently, throughout their territory.
Significant investments supported by local authorities have allowed the implementation of safety measures in various sites, aiming at their recuperation. Once marked by hard work and fatigue, those sites have been turned into coveted tourist places, enhanced by memories and evidence of their own past.
The chief mining sites of the area can be found in Arbus and Guspini, yet there are other significant places in Gonnosfanadiga, Villacidro, San Gavino and Sardara.