Skip navigation bar and go to contents
October
Calendario degli eventi
L
M
M
G
V
S
D
1
2
3

4

5
6
7
8
9
10

11

12
13
14
15
16
17

18

19
20
21
22
23
24

25

26
27
28
29
30
31
Concerto di Natale 2010 "Banda musicale G. Verdi di Serrenti"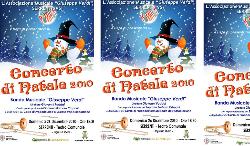 Comune: Serrenti -
Data inizio: Sunday, December 26, 2010
Data fine: Sunday, December 26, 2010

Domenica 26 dicembre, alle ore 18.30, al teatro di Serreti, la Banda Musicale "Giuseppe Verdi" di Serrenti presenta il CONCERTO DI NATALE 2010.

Programma:
1) James Swearingen - NOVENA
2) Roland Kernen - JEWISH FOLKSONG SUITE
3) John Williams/Arr. Paul Lavender -A HOME ALONE CHRISTMAS
4) Jacob De Haan - THE SPIRIT OF CHRISTMAS
5) Elliot Del Borgo - A CONTINENTAL CHRISTMAS
6) G. Bizet/Arr. James Curnow - SELECTION FROM CARMEN
7) Franz Gruber/Arr. Giovanni Foddai - STILLE NACHT
8) A.Sanna, A. Casu/Arr. Giovanni Foddai - NOTTE DE CHELU
9) James Pierpont/Arr. Giovanni Foddai - JINGLE BELLS
10) François Couperin/Arr. Giovanni Foddai - IN NOTTE PLACIDA
Banda Musicale "G.Verdi" di Serrenti - Direttore Giovanni Foddai
Con la partecipazione del Soprano Barbara Crisponi e degli Allievi del
Corso di Propedeutica Musicale diretti dal M° Stefano Frau.