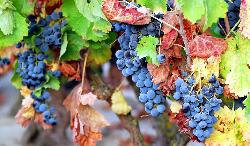 Sardinian sweet and sunny countryside has always promoted vine cultivation. Currently, despite of the fact that it is mostly performed with industrial methods, the whole island is still characterized by an artisan production based on ancient, traditional proceedings.
Indeed, Sardinian viticulture dates back to a very old tradition, up to the pre-Roman age of nuraghi, although the oenological specificity of the island is due to the Spaniards, who planted new vineyards and started new wine-making processes.

This originated a tradition of strongly alcoholic wines, which has remained unchanged for centuries. As the wines of the province were characterized by a high alcoholic content, they were commonly used as blending wines. Since the '70s, they were lightened and given more freshness, resulting in a more captivating, thin and immediate taste.
Now, it is possible to taste white fresh wines in summer, or to enjoy full-bodied and fine red wines closer to the most authentic regional tradition. Among typical wines are the Cannonau, produced in the whole island, of a red and robust taste, agreeable, dry and fruity; Monica, gentle wine of a light body, apt to accompany lots of meat or fish dishes; Vermentino, among the best whites known for their freshness and immediacy.
As to the province production, a large part of grapes farmed in local vines are processed in the nearby winery of Mogoro.
However, the Malvasia of Ussaramanna, a slightly sweet, amber-coloured wine, ideal to accompany desserts, is appreciated in the whole Marmilla, as the Monica and Nuragus produced in Las Plassas.