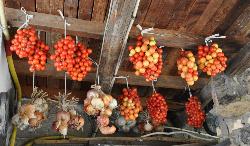 The cultivation of saffron, or Crocus sativus linnaeus, dates back to ancient times in Sardinia: according to a few reconstructions, the Phoenicians had imported it from the Middle East and, later, perhaps the Romans developed its production.
The temperate climate favours the cultivation of the so-called 'red gold', now passed from home-based to industrial levels in Middle Campidano, especially in Turri, Villanovafranca and San Gavino, where production represents an important part of the domestic product, both regarding quantity and quality.
Cultivation is rather time-consuming, therefore it involves strict rules: the flowers have to be picked early in the morning, when their corollas are still closed; then, these latter are separated from the stems, of a characteristic red colour, which are subsequently treated with olive oil and let to dry, to be eventually packed.
The most common use of saffron in cooking includes sweets based on cheese and ricotta, such as pardulas; first courses like fregula and ravioli; a digestive liqueur such as the 'Villacidro Murgia', which takes its colour right from saffron.
Yet this precious spice is used in pharmacy, too, for its digestive, stimulating and analgesic properties; also, as a pigment in dyeing arts, within the specific ethnographic field of Sardinia, with regard to carpets and traditional costumes.
The scent, taste and gastronomic versatility of saffron is celebrated through special events, as it is the focus of the Saffron Fair, but it is always present in other fairs as well. Every year in autumn, before the harvest, its main production centres are tinged in purple.