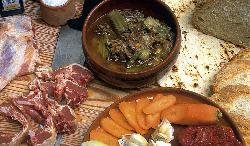 Agro-industrial production in the province of Middle Campidano is particularly varied, reflecting the different landscapes of its territory. Along with local history, this has strongly influenced the traditional (mainly agro-pastoral) activities.
Fishing and ichthyic resources distribution is partly associated to external impacts, since for a long time the sea was seen as a mere connection to the rest of the world. This is why the culinary tradition has been rather oriented towards land-based products, such as meat and milk derivatives.
Climatic and geographical features have favoured horticultural and farming commodities. The artichoke is one of the best known; the delicious 'Sardinian thorny' quality is excellent when eaten raw, or cooked to accompany meat dishes.
Local tomatoes are also appreciated for their sweet, fresh and pleasant taste.
Also, fruit from the province territories is characterized by top-level quality and flavour: a renowned peach quality, cherries, oranges, pears and dryland-farmed melons, whose long shelf-life allows to enjoy them even in winter.
Another major production is that of olives and extra-virgin oil. Standing as a fundamental food in Mediterranean diet and in Sardinian cookery as well, oil was recently granted the PDO (Protected Designation of Origin) brand, thanks to the high quality levels it has achieved.
Besides a wide-ranging choice of meats (suckling pig, kid, lamb and sheep), the fertility, healthiness and diversity of pastures offers a large assortment of dairy products. The most common cheese is represented by ewe's and goat's milk cheeses, caciottas, fresh cheese and ricotta, to be tasted with civraxiu, an excellent, locally produced bread with a rough and crispy crust.
Of course, delicious cured products from local breeding are also present: sausage, ham, lard and mustela, cured pork fillet flavoured with scents of the Mediterranean maquis.
Not be neglected are the commodities used in the confectionery art: almonds, whose flowers cover up entire valleys in spring; honey, excellent in all its varieties, from the classic multiflower to the most valuable arbutus honey; saffron, or the 'red gold of Sardinia', indispensable in the preparation of sweets such as pardulas and, finally, local liqueurs, including the well-known 'Villacidro Murgia', to be tasted either straight or to aromatize a few delicate and tasty traditional sweets.