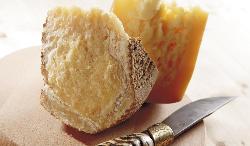 Cheese is certainly the best known among the island products. Its intense, unmistakable taste is owed to the extensive pastures of an old land blessed by the most favourable climate conditions. In addition, an autochthonous breed has been reared in Sardinia for millenniums; all these elements explain the reasons of such a variety and deliciousness.
The Middle Campidano can boast a long experience in cheese-making: the practice of breeding in the lushing pastures of the plains and on the mountains has promoted product diversity and quality.
Cheese is produced either by private farms or small and medium companies, sometimes run on a family basis.
Pecorino cheese is obtained from ewe's milk after a long maturation period under special temperature and moisture conditions, which give the cheese a strong and pleasant spicy taste, not counting its high nutritional and energetic values.
The excellent local goat's milk cheese is characterized by a high digestibleness and lightness. It is available either as raw paste cheese, crumbly and with a distinctive goat's milk aroma, or as soft paste cheese, snow-white and creamy, which can enhance the taste of any food served along with it.
Also, ricotta is always present in the preparation of sweets and ravioli; but it can also be tasted as it is, with sugar and lemon rind, or honey.
Su casu axedu is an acid cheese to be tasted with honey; su casu 'e fitta is a pickled ewe's milk cheese used to make a characteristic soup with wild fennel or wild mint; su casu friscu is fresh cheese usually served at Easter to enhance various soups.