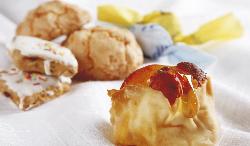 Confectionery art in Sardinia consists of ancient tastes and simple ingredients, handed down for generations. The main feature of local sweets is the use of genuine products, worked by expert feminine hands to create refined and precious shapes, real works of art of Sardinian cookery.
The indispensable elements are honey, sapa, almonds, fresh cheese and ricotta, all typical products of the province territory. They are completed, according to specific local taste, by saffron and 'Villacidro Murgia' liqueur, also associated to local production.
There are countless variants for every kind of sweet, depending on the traditions and the tastes of every single village and its lands.
The most well-known sweets are amaretti and gueffus, titbits of almonds and sugar; pistoccus, similar to sponge biscuits, served with liqueur-like local wines; then, pardulas, saffron-flavoured pastries with ricotta or fresh cheese; papassinas, made with nuts and raisins; finally, nougat, produced in the province territory using local ingredients, combining almonds and honey in a unique, ancient taste.
The taste and aroma of a few sweets are usually linked to special occasions: the pani de saba and the papassinas are prepared for All Souls' Day and All Saints' Day, the pardulas at Easter and the gateau, crispy sweet of almonds, sugar or honey and lemon, at weddings, to wish good luck to the newlyweds.