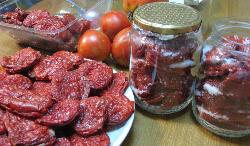 The Middle Campidano is a thriving, generous land offering the most varied products. Its fields produce abundant quantities of fruits and vegetables, to be eaten either as fresh or preserved products, as tasty conserves or jams.
Vegetables, artichokes, chilli peppers, tomatoes, mushrooms, thistles, asparagus, olives, etc. are processed and then preserved in oil, in brine, or seasoned with spices, to make delicious sauces and preserves.
Lemons, oranges, mandarins and figs, skilfully worked, are transformed into flavoured and genuine jams, to be consumed as snacks, for breakfast, or to be employed in the preparation of (or to enhance) a variety of sweets.
A number of small and medium companies have turned this tradition into a profession.
A special place is reserved to tomato sauce preserves: mashed tomatoes, peeled tomatoes and tomato paste are exclusively made from tomatoes, plentifully produced in various centres of the province.
Two other leading products are olives – to be consumed as table olives, preserved in brine – and small artichokes in oil, seasoned with spices.