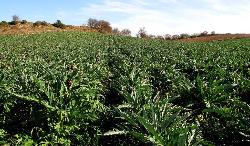 A characteristic crop of Sardinia, the artichoke is particularly widespread in Middle Campidano, a producing area par excellence.
Here, the variety of the 'Thorny of Bosa' was introduced since the '40s; then, thanks to local producers' work, this quality created the 'Sardinian Thorny', an artichoke of a marked taste, now standing as an essential ingredient of the island cuisine.
This valuable quality presents a fleshy fruit, often lacking a fuzzy choke, provided with strong thorns; compared to other artichoke qualities, it has got a lighter taste and lower bitterish notes. It is excellent either raw or in salads, seasoned with scales of ewe's milk cheese, or sprinkled with bottarga, but also in meat and side dishes.
Besides its renowned taste properties, the artichoke has got a high content in iron and cynarin, a substance playing a major role both in controlling blood cholesterol as in stimulating bilious functions.
In December, the province celebrates the tradition of artichoke cultivation by participating to the important highlight of the Artichoke Fair, taking place in Samassi.
Such occasion offers a chance to taste the 'king of vegetables' of local farming, along with a number of agro-industrial products of the province; at the same time, it allows to discover local craftsmanship and productions.